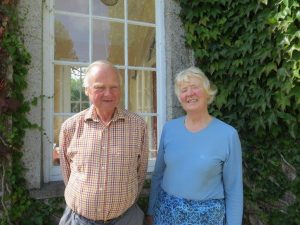 Name: Peter & Petronelle Clifton-Brown
Farm Name: Ballinamona Farm
Farm Type: Horticulture, small livestock
ABOUT THE FARM HOLDING
Peter and Petronelle have been married for almost 50 years and acquired the 350 acres in Ballinamona in 1981.   The out farm is now let to two tenants, both of whom are happy for participants, under supervision, to come and view the everyday farming activities.  At the home farm, there are mature gardens and woodland, vegetables and fruits are grown, and there are small animals including hens, ducks and dogs.
The House is a Georgian building (some of the walls are one metre thick!). It is approached by a gravel drive of approximately 200 metres from the main road.  The house, old farm buildings, and garden walls are all protected structures.
A SOCIAL FARMING DAY
Gardening:
Help prepare ground for sowing or planting of fruits, veg, and flowers; watching plants grow, and protecting them, noting their development and identifying them from weeds; harvest and eat produce; picking flowers.
Maintaining lawns, paths, box hedges and grass around apple trees.
Feeding hens and ducks — observe sitting hens and hatching chicks.
Around the Grounds:
Search for evidence of wildlife e.g rabbits, foxes, birds nesting, wild flowers etc.
Help maintain lawns including removal of fallen branches; collect and store in cut timber to be dried for wood fired stoves.
Farming
Watching sheep being milked and in the handling yards, helping bring sheep from fields to yards.
Rainy day activities might include: cooking garden produce, making jams and juices from fruit, preserving surplus vegetables and/or art classes.
LOCAL & COMMUNITY INTERESTS
Peter is a lay preacher in Cashel Union of Parishes and is involved in church affairs in the Church of Ireland Diocese of Cashel, Ferns and Ossory.  Petronelle is an ETB tutor; Petronelle teaches art as therapy to geriatric patients in St Patrick's Hospital Cashel and assists in Hayward Lodge, Clonmel.
Peter and Petronelle are involved in the Cashel Arts Festival as well Guides and Scouting for which they make the farm available for hikes, cookouts and camps.
SOMETHING SPECIAL ABOUT THE FARM
There is a lime kiln and fulacht fiadh and ancient burial site to visit. Peter once found a spindal in a tramline—he gave this to a local archaeologist for preservation.