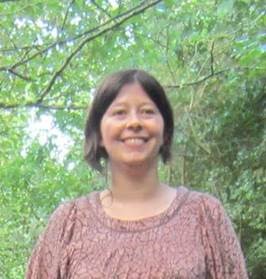 Name: Catherine Rountree
Farm Type: Horticulture, small livestock, forestry
ABOUT THE FARM HOLDING
Ballykealy House and farm is a small holding and through a combination of instruction and practice it aims to be friendly to nature and make good sustainable use of natural resources. Here the focus is on land management, horticulture, and eco-habitat creation.  There are vegetable and herb gardens and the grasslands are enriched by stitching in native flowers.
Ballykealy House has stood on this site for nearly 200 years, although the farmyard is older and originally formed part of the Birr Castle Estate.
Catherine has over 20 years experience in the horticultural and ecology industry and 10 years' experience in the mental health sphere.  She has worked in a variety of businesses and has experience in landscape design and specialisation in propagation and cultivation and habitat creation, raining and education delivery, group facilitation, individual and family psychotherapy as well as service development and management.
A SOCIAL FARMING DAY
Woodland management skills and walkway maintenance.
Creation of biodiversity hot spots and habitat enrichment, bumble bee and butterfly monitoring in the summer.
Gardening: propagation, growing and eating!
Stonewall & hedge maintenance.
Life skills learning.
Care of fowl and small pets.
Harvesting turf and collecting firewood.
Social & therapeutic horticulture.
LOCAL INTERESTS
Our house gives this townland its name, Ballykealy or 'house of Kelly's'. The house is on the edge of the fertile eskers and the fabulous bogs, with bog lakes and eskers close by, leading to the site of the famous Dowris Hoard. The house is close to L. Boora Discovery Park and Catherine has worked there over the years as it has evolved from the cutaway, both planting trees and offering bespoke tours.