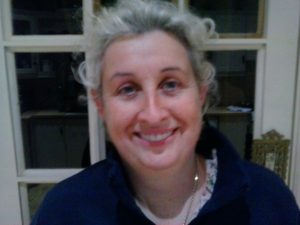 Name: Catherine Molloy
Farm Name: Rathure North and Clonbeal Farm
Farm Type: Drystock, horticulture, forestry
ABOUT THE FARM HOLDING
The family farm has been in the Molloy family for the last 300 years and Catherine is the first female to inherit the land.  Catherine and her partner Brian have been farming together for 20 years. The farm is 42 acres in total, with 10 of those acres located in Clonbeal. A calf to beef enterprise is run on the farm, which is run alongside a pedigree Herefords suckler herd- Rathure Herd. Clonbeal farm is accessed through a woodland pathway of Norway spruce, Scots pine and Native trees. Vegetables and fruit are grown and harvested for the household.
Catherine works as a nurse in Tullamore part time and practices reflexology in her spare time.
A SOCIAL FARMING DAY
Animal care:  herding, feeding, bedding and preparing cattle for showing; maintaining animal housing.
General maintenance: fencing, painting and repair of tools & equipment.
Tree, vegetable, fruit and flower care: sowing, feeding, weeding and harvesting fruit and veg;  turf harvesting and stacking in forest.
Other:  Bird, bat and insect care, visiting the local Vet and agri store for farm supplies
LOCAL INTERESTS
Catherine and Brian enjoy walking with Oogie (the dog) in the local Coillte forest known as Knockbarron woods.  Catherine is a volunteer with the Rath Eglish Fóroige Club and a member of the Sunrise Vintage Car and Tractor Club.   In the local area there is an active GAA, Soccer, badminton and drama group. Catherine and Brian attend traditional Irish Music Sessions each Wednesday night in the local pubs called the Slieve Bloom sessions.