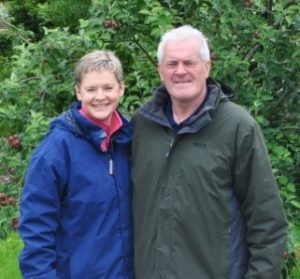 Name: Yvonne & Declan Foley
Farm Type: Forestry
ABOUT THE FARM HOLDING
The farm forms part of the old Longford Estate, Beltra, Co. Sligo.  There is old wood/forest, where pathways gently work through the old trees and footbridges leading over streams.  Quiet seating areas are placed throughout.  Declan and Yvonne are forest farmers who have been actively working on their old wood/forest since 2003.  They were RDS Award winners in 2010 for their wood and continue to work to protect the veteran trees and streams etc. for future generations.
A SOCIAL FARMING DAY
A selection of walks through the woodland to enjoy the change of seasons.
Identifying tree species and hedges.
Gentle maintenance of areas to provide ideal habitat for wildlife.
Seasonal picking of berries & apples.
Wild bird feeding & identification.
Other suggestions from participant.
LOCAL COMMUNITY INTERESTS