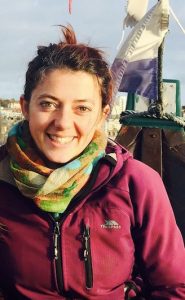 Name: Kate Egan & Tom Carlin
Farm Name: An Ghrian Glas Farm
Farm Type: Horticulture, woodland, small livestock
ABOUT THE FARM HOLDING
The farm is comprised of 9 acres that has been transformed from a green field site.  Today there is around an acre for growing vegetable and another acre where there is a fruit and nut orchard along with 13 chickens, 6 ducks, 1 pig,  3 horses, 1 dog and 1 cat. At present four acres are being converted into native woodland and pasture grazing for the horses and a 2 acre food forest is being created. Kate and Toms' growing methods are a blend of organic, permaculture and natural farming. Kate and Tom are also working hard to increase biodiversity and the ability of the land to support native wildlife by installing ponds, planting native trees and pollinator plants.
ACTIVITIES OFFERED TO PARTICIPANTS
Sowing seeds, harvesting vegetables, building raised beds, digging drains, planting trees, weeding
Feeding animals and cleaning out pens
Care of the horses, feeding and stables/field cleaning, grooming and looking after their equipment.
During good weather there may be an opportunity to have a campfire and cook up some delicious snacks. Learn to make rope from wild plants.
LOCAL & COMMUNITY INTERESTS
Kate volunteers with the local community centre in Ballymahon and runs the Youth Club there.
LOCAL COMMUNITY
Nearest Services:  There is a healthcare centre, community centre, small shop, pub and take away in Ballymore. In Ballymahon there are a range of services available.
Nearest Town: Ballymore, Co. Westmeath
Nearest public transport or rural transport initiative: Bus Eireann from Dublin to Granard,  there is also a bus between Ballymore and Athlone, however it does not run regularly.
SOMETHING SPECIAL ABOUT THE FARM
"After working in environmental education and conservation for over ten years, we wished to take on an action project that would make some change in the real world. We bought the farm in 2016 and set out to create somewhere that was beautiful and bursting with biodiversity while also producing a sustainable harvest. There is a huge increase in the number of birds, insects, animals and plants that now call the farm home. We hope that this will be a calm and enriching place for humans and animals alike." – Kate Egan and Tom Carlin