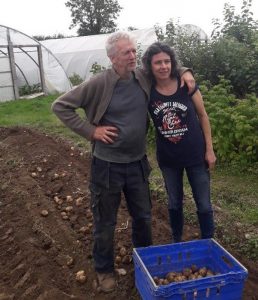 Name:  Eamonn Wallace and Nathalie Nouvion
Farm Type: Organic poultry, horticulture
ABOUT THE FARM HOLDING
Eamonn and Nathalie have managed their small 15 acre organic poultry, vegetable and fruit farm for over 17 years. There are between 300 – 400 laying hens on the farm and each morning the focus is on them. The hens can be noisy but working with the eggs is very therapeutic.
There is a sustainable composting area where the compost is managed and spread across the vegetation on the farm.  The main meal is always at midday where helpers are involved in the preparation, creating a focal point for being together and enjoying the home grown fruit and veg.
The farm has been "social" over the years as Eamonn and Nathalie have welcomed WWOOFERS, agricultural students and international visitors of all abilities.  Nathalie worked in Camphill community and has a level 5 in Community care. She is inspired to share farming and gardening with people. Eamonn grew up on a farm and studied engineering –  his return to the land was also inspired by sharing this work with people. Over the years we they have had visitors from various settings for change of scenery and farm experience.
A SOCIAL FARMING DAY
Caring for the hens: feeding, picking and grading eggs.
Fruit and veg growing: cleaning and washing boxes for veg for growing, sowing seeds, planting, weeding, protecting fruit and veg from birds, and harvesting.
 Other activities:  hedge cutting, collecting and bringing in wood for the winter, repairing and painting, preparing lunch for farm workers.
LOCAL & COMMUNITY INTERESTS
Eamonn plays Irish trad music and Nathalie is involved with Camphill Callan, L'Arche and KCat.