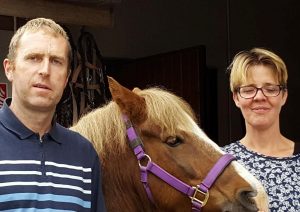 Name:  Yvonne & Jim Hoban
Farm Type: Dairy, drystock, equine
ABOUT THE FARM HOLDING
Yvonne and Jim live on the farm with their four children.  Jim has lived on the farm his entire life and it has been in his family for generations.  Yvonne is originally from the Netherlands and worked in a residence for adults who have additional needs.
Their farm is split in two parts.  One is a dairy farm where Jim milks around 80 cows twice daily, feeds calves and rears replacing heifers and some beef cattle.  Yvonne teaches local children and people with special abilities therapeutic horse riding on the other part of the farm.  There are 9 ponies on the farm.  Yvonne has been a therapeutic horse riding coach for the past six years.
A SOCIAL FARMING DAY
Setting up and clearing up the milking parlour before and after milking.
Scraping and clearing out stables.
Brushing the yard and scraping cubicles.
Feed calves and horses; brushing horses and counting cattle.
Fencing and painting.
LOCAL & COMMUNITY INTERESTS
Jim plays and coaches juvenile badminton in the local village.
OUR SOCIAL FARMING EXPERIENCE
"We had one man here who would hardly say hello when he first came.  When he left he thanked us and we thanked him.  I put my hand out, curious to see if he would shake hands and he did.  That was a really big moment – he was so much confortable." – Yvonne Hoban