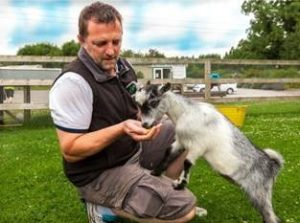 Name: James Malone
Farm Name: Malone Fruit Farm & Farm Shop
Farm Type: Horticulture, small livestock
ABOUT THE FARM HOLDING
James and his wife Liz run their 12 acre soft fruit family farm along with the help of their two teenage children.  They grow 13 different types of soft fruit with crops harvesting from May to October.  The seasonal fruit and a selection of jams created from the fruit are then sold in their farm shop and at farmer's markets. .
There is also a small area on the farm where there are some small animals for visitors to view and interact with. Currently there are pygmy goats, guinea pigs and chickens.
While the farm is not certified organic James and Liz employ many organic principles such as biological control, composting, and mulching conservation.
A SOCIAL FARMING DAY
Garden care: planting, weeding, pruning, watering, feeding and picking
Animal care: feeding, watering and interacting with
Other activities: painting, observing & learning about bees
LOCAL & COMMUNITY INTERESTS
James and Liz sponsor the local U14 soccer team.  James is the Chairman of local Community Alert Scheme and has over ten years experience in teaching FETAC Horticulture levels 3 to 5 in the adult education system.