Ballinamona, Co Waterford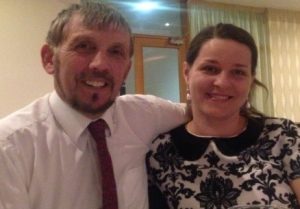 Name: Bill Spencer and Renata Anukaite
Farm Type: Mixed smallholding, woodlands
ABOUT THE FARM HOLDING
Bill and Renata's live on the farm with their four children.  The farm is on a hill with rolling landscapes surrounded on two sides by woodland with views of Waterford city and mountains in the distance. There are woodlands, wetlands and many walks here.  The farm is a small holding around the house with a poly tunnel, vegetable beds, and some soft fruits. There is also a cow, hens, a small pony, 3 family dogs and 3 cats.  Bill and Renata are working towards making the farm organically self-sufficient.
The stables in the farm yard have been converted to a Cottage which currently is used for workshops and courses by different therapists e.g. Shamanic healers, Reiki Practitioners etc.
Bill is the third generation of the Spencer family to live and work on the farm.  Renata, originally from Lithuania, helped her parents and grandparents on their farm to grow their own vegetables and look after animals. She has always loved nature and animals and realises their therapeutic benefits.  She is a qualified counselor and holds a degree in Counselling & Psychotherapy and has worked for 10 years in different Nursing Homes and Hospitals as a Care Assistant and has experience working with the elderly and those with physical and mental disabilities.
A SOCIAL FARMING DAY
Feeding the animals; collecting and cleaning eggs, putting straw in hens nest
Vegetable and herb planting/harvesting and watering/feeding
Picking soft fruits
Some digging and weeding
Collecting sticks from adn tidying up the woodland
Cleaning and sweeping around the yard
LOCAL & COMMUNITY INTERESTS
There is a sense of community without leaving the farm. Barbeques are held at the allotments on the farm where the plot holders and others enjoy the nice food, have a chat, enjoy nature and sometimes camp.  Close to the farm there is an Equestrian centre. In Kilcohan there is the Sacred Heart Family Resource centre which holds different activities.  The locality has an abundance of clubs such as Harley Davidson club, cycling club etc.
SOMETHING SPECIAL ABOUT THE FARM
An allotment project started on the farm 6 years ago and around 20 families from different nationalities growing their own vegetables, have B.B.Q's and sometimes camp. Over the years students/volunteers have come from around the world to stay on the farm, experience the farm life, learn about Irish culture and learn the language. There is a communal shed and car park available for plot holders and others.