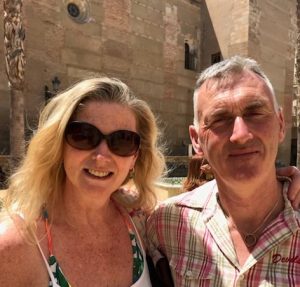 Name: Nick & Dymphna Maher
Farm Name: Highfield House
Farm Type: Organic drystock, sheep
ABOUT THE FARM HOLDING
Nick and Dymphna have farmed this land since the 1990's.
They currently have 50 dry cattle which are out on grass most of the year and in sheds for the winter, being fed organic red clover silage. They also keep sheep, usually for farmers from other parts of the country where the land wouldn't be as dry, and have two 2 pet Kuni Kuni pigs, Lillith and Poe who love all of the scraps and pretty much anything they can find.
In addition to farming Dymphna teaches people how to prepare healthy food, running monthly courses in her home demonstrating how to make milk from nuts, herbal teas, juicing, and other tips on introducing healthier food into diets.
Nick has completed a degree in herbal medicine while Dymphna has completed a certification in healthy food.
A SOCIAL FARMING DAY
Animal care: feeding and bedding animals that are housed, cleaning out sheds, scraping the yard.
Developing the poly tunnel: Making growing tables, sowing, watering, weeding and feeding vegetables and herbs.
General maintenance: fixing gates and tidying yard.
Cooking: learning and creating recipes using the veg & herbs from the poly tunnel.
Woodwork projects.
LOCAL INTERESTS
Nick practices Herbal Medicine and sees clients at his clinic in Killeshin.  Dymphna runs the tearooms and Health Shop beside him.