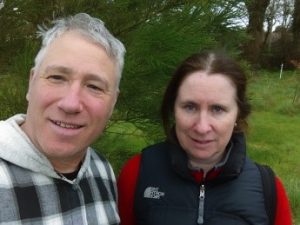 Name: Brandon McLane and Grace Maher
Farm Name: Oracle Farm
Farm Type: Organic horticulture
ABOUT THE FARM HOLDING
Oracle Farm is a small organic farm approximately of 4 acres and has been certified organic for over ten years.
Brandon and Grace grow a range of vegetables and soft fruit. There are 3 poly-tunnels  used for commercial production of strawberries, fruit and vegetables. Growing hops which is a new initiative and innovative crop in Ireland. There is also a small woodland area on the farm for home use, some chickens, a dog and two cats.
Grace works part time as a Development Officer with Irish Organic Association and is a qualified yoga teacher who has been teaching yoga in Carlow for over 10 years.
For the past five years Brandon has been working as a support worker with individuals with intellectual and/or physical disabilities. He has a varied background in employment having worked initially as a nurse in the United States, and then as a theatrical carpenter and artist before returning to the health care sector. He has qualification in FETAC Level 5 in Healthcare Support
Brandon and Grace spearheaded the beginning of the Carlow Farmers Market which is now very successful.
A SOCIAL FARMING DAY
Fruit and vegetable growing: Sowing seeds, vegetable and flower plants into specified beds, light hand weeding of vegetables, watering, feeding and harvesting.
General maintenance: Cultivating the ground with garden hoes, raking up after strimming, putting in pathways and maintenance, light work in the orchard area, picking apples, pruning apple trees
Animal care: Cleaning out and feeding the hens and collecting eggs
Other activities: Building bird and bat boxes, fencing, planting hedging, setting up bee hives, composting garden waste, making organic plant feeds from plant material
LOCAL & COMMUNITY INTERESTS
Brandon has been interested in the visual arts for a number of years and works collectively with a group of artists in Carlow, and we hold exhibitions for art festivals throughout the year. Brandon and Grace are involved in the school community and also in the local Fairtrade Group on a voluntary basis.  They have a large extensive family in the local area.
SOMETHING SPECIAL ABOUT THE FARM
Brandon, Grace and their two boys live in a straw-bale house with a grass roof which was designed and built by Brandon.