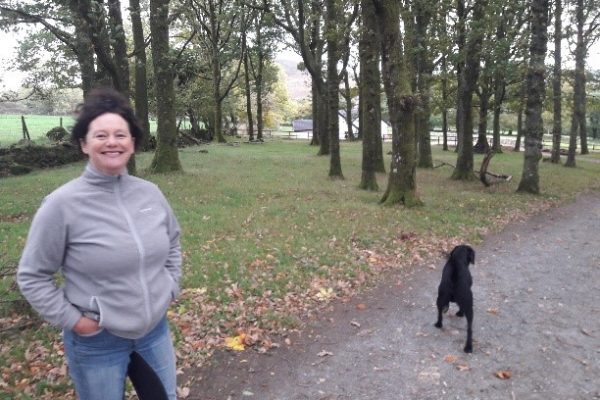 Name:

  
Lesley Jones
Farm Name:

 
Ballycreen Farm
Farm Type:
Equine, horticulture, woodland
ABOUT THE FARM HOLDING
Ballycreen is a 42 acre farm nestled at the foot of the "Brown Mountain" in Aughrim Co. Wicklow, an area of designated natural beauty. The farm comprises mature woodland and meadow pastureland.  A river borders the woodland and there are two natural springs on the land which is used as a natural water source.
The farm offers a wealth of activity.  There are horses, goats, pigs, and hens, a poly-tunnel where veg and flowers are grown, and woodlands and rivers for walking.
Lesley is an enthusiastic horse woman and riding instructor with a background in education and has been developing and delivering equine and animal assisted programmes since 2005.  She has worked alongside organisations such as HEALS (Horse Energy Alleviates Living Scars) and The Irish Horse Welfare Trust developing educational and therapeutic programmes. Other organisations she has worked with include Barnardos, Offaly Traveller Movement, Tiglinn Day service, Arklow and Sunbeam House Services Wicklow.
ACTIVITIES OFFERED TO PARTICIPANTS
Equine: Mucking out, grooming quite ponies, feeding, watering
Animal care:  Feeding and watering lambs, hens, pigs and goats, assisting with implementation of heath care plans; collecting eggs
Gardening: Tending to veg and flower beds, planting, hoeing, weeding, designing of flower bed, potting up of seedlings
Other activities: Farm and hill walks, wildlife identification by the river, creation of magical woodland areas, maintenance of lane-ways and pathways
LOCAL & COMMUNITY INTERESTS
Lesley's community based work includes horse project facilitation in various locations throughout Ireland, working with a number of different groups focusing mainly on the areas of youth diversion and outreach, early Suicide Intervention, education and awareness, parent and child relationship development, and various integration projects with ethnic communities in Ireland, in particular with the Travelling Community. Lesley also has significant experience of working with adults and children with intellectual and physical disability.