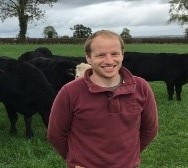 Name: Shane Callaghan
Farm type: Organic drystock, sheep, tillage
ABOUT THE FARM HOLDING
Shane is the third generation to farm this land and works alongside his father John.  The farm is focused on rearing beef and sheep and uses a 100% grass based system of farming with both cattle and sheep mixed together on the farm. He continues with the traditional breeds of Hereford, Angus as he and John like their calm temperament and ease of handling.
Shane is also a farm manager at Burton House where he manages an organic cereal and beef farm which adjoins his home farm.  The aim of this farm is to produce great tasting foods for the Green Barn Restaurant which is located on the land. He enjoys this system of farming as it works alongside nature and the environment and provides a real feel good factor in the work that they do.
Shane's father John spends time training sheep dogs and his wife Marguerite, a critical care nurse who comes from a dairy farm, works alongside him on the farm on evenings and weekends.
A SOCIAL FARMING DAY
Animal care: feeding lambs and cows, bedding, field rotation to maintain grasslands system.
Grassland management: fencing, assessing grass covers, organising field rotations, hedgerow maintenance and timber cutting.
Learning organic principles: grassland management, how to improve soil fertility, and other basic principles of how to grow and sell organic farm goods.
Dog training: caring for dogs, learning basic commands of dog obedience and working with dogs to assist in the gathering of sheep for handling.
LOCAL & COMMUNITY INTERESTS
Shane enjoys keeping fit by cycling on weekends and has completed several marathon races.